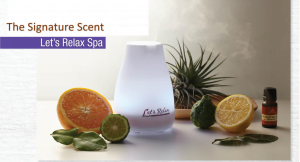 Introducing Let's Relax Spa's unique Scent. One of the first 5 senses (sight-taste-smell-sound-touch) that our customer will encounter upon arrival at Let's Relax Spa.
"Smells Good" is usually the first word of impression. Our Signature Blend Essential Oil was specially designed and are used in all of our branches throughout our 20 years in service. The power of the Scent helps the customer relax throughout the Spa Journey. The Signature Blend Essential Oil combined the oriental Orange Plant extracted scents including Lemon, Kaffir Lime, Lemon and Mandarin Orange with the properties of anti-oxidants
The power of the Scent also makes customer refresh yet relaxed. The signature Blend Essential Oil also available as take-home purchase to co-create similar ambiance at home. Let's Relax continuously innovates with the additional scent of Onsen Blend Essential Oil which is used at our Flagship Onsen & Spa Outlet in Thonglor, Bangkok.
Signature Blend Essential Oil can be used with the Oil Burner or Mini Electric Diffuser to match with your house's style, specifically on the day you want the ultimate relaxation before returning to your spa journey at Let's Relax Spa.