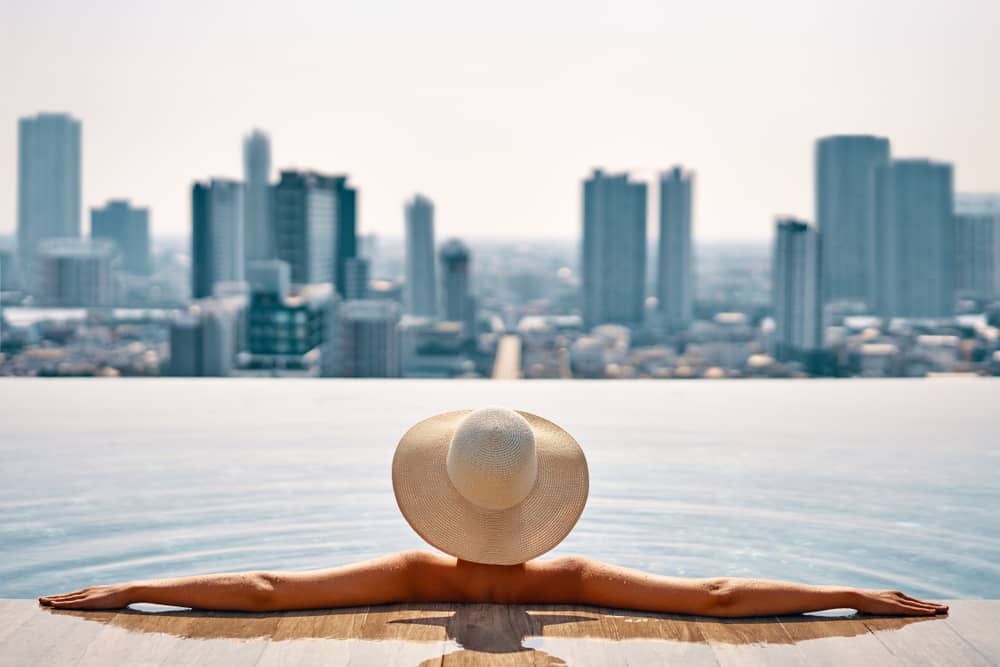 Each year, Bangkok is one of the most visited cities in the world. Travelers from around the globe come to the historic and vibrant Thai capital with expectations of amazing food, unique culture, and adventure around every corner.
Most travelers who visit Thailand will use Bangkok as a jumping off point for exploration to the north or south, setting aside only a few days to explore the city. But with so much to do, travelers on a tight schedule need to plan their moves wisely to maximize time and beat the city's notoriously bad traffic.
From never-ending shopping to unwinding in one of Bangkok's many spas, here are five things any traveler needs to do when visiting Bangkok.
See the Temples
Thailand's trio of iconic temples – Wat Phra Kaew, Wat Pho, and Wat Arun – are usually atop any travelers itinerary. They are physical representations of traditional Thai Buddhism and of Thailand's storied history.
Fortunately for travelers, these three temples are all in close proximity to each other. A typical Thai temple trip sees travelers start their cultural odyssey at Wat Phra Kaew. This massive temple complex is also known as the Grand Palace and is home to the famous Emerald Buddha.
Across the street from the southern wall of Wat Phra Kaew is Wat Pho, home to a massive reclining Buddha statue that measures 46 meters long. Wat Pho is also a training facility for aspiring masseuses to learn the art of Thai massage. Many would actually consider this to be one of the best places to get a massage in Bangkok.
Finally, travelers can walk to a nearby pier and take a quick and cheap passenger ferry across the Chao Phraya river to visit Wat Arun. The Temple of Dawn is undoubtedly the iconic Bangkok temple, with steep, ornate pillars surrounding a central spire. And, since it sits west of the river, many relish the chance to watch the sunset behind Wat Arun.
Eat Your Heart Out in Chinatown
After all of that temple visiting, food is likely top of mind. Just a quick tuk tuk or taxi ride from the temples is Chinatown, a famous and well-traversed area centered on Yaowarat Road. Restaurants and street stalls line Yaowarat and its side streets, with many simple noodle carts facing long queues from the time they open.
Here you can find everything from traditional Chinese food, Thai noodle dishes, roasted duck and pork, and even a bevy of sweet and tantalizing desserts. While you're there, don't forget to grab a photograph of some of the old hotels and the iconic street signs with large, bright Chinese characters.
Unwind at a Bangkok Spa
A long day on your feet in the sun can be taxing on the body and mind. Luckily, Bangkok has great massage centers and spas across the city. Let's Relax Spa has 20 branches located in all the major areas of the city, each waiting to welcome in weary travelers who are looking to rejuvenate their bodies with a traditional Thai massage from Bangkok's best masseuses.
Each Let's Relax Spa location offers a range of spa treatments that are must-tries for anyone visiting Bangkok, including oil massages, traditional Thai massages, and foot massages. Each Thai massage treatment uses acupressure and repetitive motions to loosen up muscles and increase blood circulation, incorporating unique, yoga-like stretches. There is truly nothing like a Thai massage.
Explore the Labyrinthian Chatuchak Market
If you're in the mood for clothes shopping or want to load up on souvenirs for your friends and family back home, there is no better place to visit than Chatuchak Market.
Located in the northern part of Bangkok, near the BTS SkyTrain MoChit station and the MRT's Chatuchak Park station, the once-exclusively weekend market sells nearly every non-electronic item under the sun. From clothes and food, to plants and handcrafts, Chatuchak is a must-visit market; just try not to get lost once you're inside!
Shop in Style in Siam
If Chatuchak Market is the home of cheap souvenirs and trinkets, Siam is its foil. Home to Siam Paragon, Discovery, and Center luxury malls, the Siam area of Bangkok is a shopper's Mecca.
Not only can you find designer brands, fancy electronics, and chic, stylish clothing, Siam is an area to see and be seen. At one point, Siam Paragon was the most Instagrammed place in the world!
However long you are in Bangkok, you'll never run out of exciting things to do and see. But with all the heat and walking you're inevitably going to have to endure, don't forget to take care of yourself with a visit to a Let's Relax Spa in Bangkok.