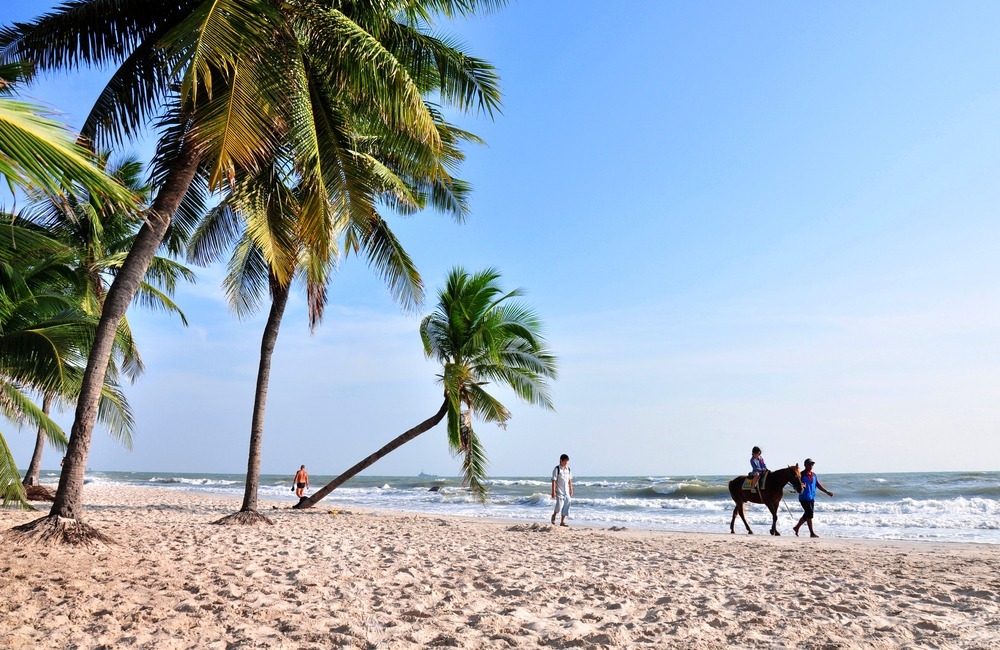 After the establishment of the Phuket Sandbox program, Thailand is looking to open up other areas of the country for incoming tourists as well. The Hua Hin Recharge program will allow the area to welcome outside visitors in the near future. Full of delicious seafood, beautiful beaches, and excellent Let's Relax massage locations, Hua Hin is a very attractive holiday destination.
A visit to Hua Hin is not only a great idea for international visitors, however. If you're in need of a quick weekend vacation and a break from the busy rush of Bangkok, a short trip to Hua Hin is the perfect solution to help you recharge. This article will highlight some of the best places to visit during your weekend trip to Hua Hin.
Beaches
One of the most attractive features of Hua Hin is the relaxing, white sand beaches. The beaches in this area have made it a great travel destination for both international visitors and for local Thais.
Hua Hin Beach
The Hua Hin Beach is right in the heart of the city and is lined with many beautiful hotels and restaurants. This beach is perfect for daytime lounging and fun activities with the family, or an evening stroll along the shore in the moonlight.
Among the many family-friendly activities you can enjoy are jet-skiing, water-skiing, kiteboarding and horseback riding. There are also beach mats and sunbed areas that you can rent for the day to relax in or out of the sun.
Khao Takiab Beach
The Hua Hin Recharge program actually covers the entire Hua Hin municipality along the Nong Kae tambon directly to the south, incorporating a few other nearby beach areas, such as Khao Takiab.
The area around Khao Takiab is less populated, giving this beach a quiet, secluded vibe for those who are looking to have a truly relaxing beach experience. This beach also offers some great views for visitors who choose to climb the hill at the end of the beach commonly referred to as Monkey Mountain. This attraction overlooks the gorgeous Hua Hin bay and at the very top is a charming Buddhist temple.
Nearby Attractions
Hua Hin features a wide variety of must-see sights in addition to their beautiful beaches. You won't want to miss the following attractions, all within the Hua Hin Recharge area.
Baan Silapin (Artist House)
Not far outside the city of Hua Hin is the Artist's House, where local artists from Hua Hin and around Thailand showcase their paintings. Sometimes you can catch artists actively working here and there is an area toward the back where visitors can make their own art, which is particularly enjoyable for those traveling with children.
Cicada Market
If you love shopping then you should definitely visit the Cicada Market, widely considered to be Thailand's best night market. You can peruse a wide selection of items for sale, including food items, clothing, and oil paintings. The lively atmosphere at this market is sure to provide an exciting evening experience for anyone looking to stretch their legs.
Rajabhakti Park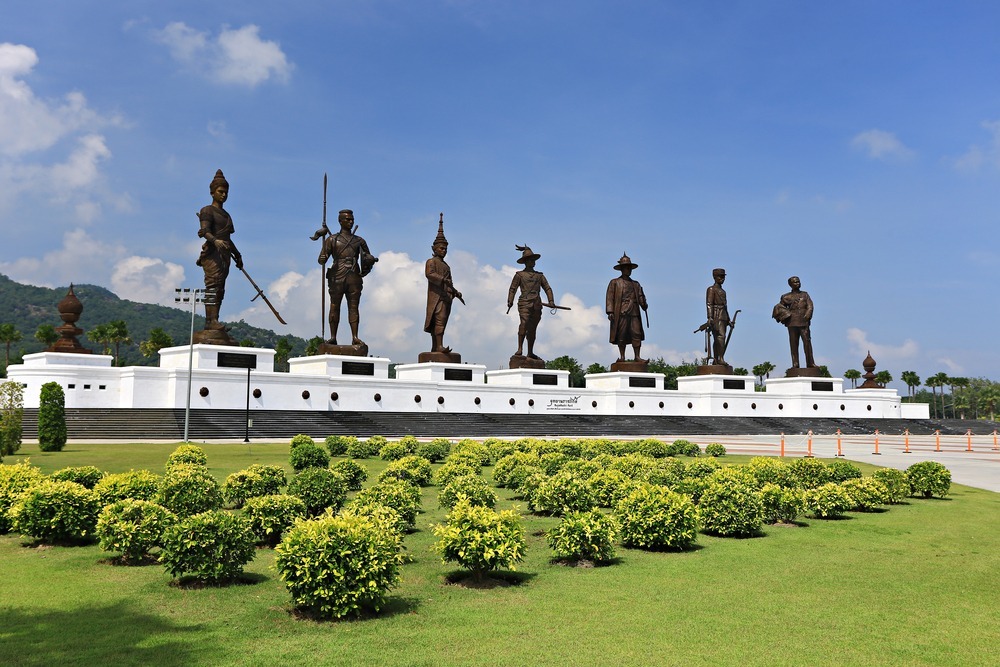 This historically themed park was designed to honor the Thai kings of the Chakri dynasty from the Sukhothai period all the way up to the present day. The park area is very large and sometimes used for parades for special military events. It is definitely worth a visit if you have an interest in Thai history.
Seafood at Hua Hin Night Market
As a popular beachside destination, Hua Hin is very well known for its delicious seafood. If you like to recharge by filling up on tasty food, then you can find many excellent restaurants serving up fresh seafood for you to try, or you can visit one of the many spots for a seafood barbecue in the Hua Hin Night Market. Have a stroll and do some light shopping then have an authentic local seafood experience for dinner.
Relaxing In the City
Whether you spend your days sightseeing or hanging by the beach, the perfect way to truly recharge your mind and body is with a calming massage at a Hua Hin spa. Let's Relax has two great locations in Hua Hin where you can choose from a wide variety of treatments.
We offer Thai and Aroma Oil massages to relax tired muscles, as well as facials, body scrubs, and baths using natural herbs to rejuvenate your skin and help you feel refreshed.
The Best Break from Bangkok: Hua Hin Recharge
Whether you're looking for unique shopping experiences, mouth-watering seafood, a day of swimming and fun in the sun, a visit to some beautiful religious and historical sites, or a relaxing afternoon at the spa, Hua Hin is the perfect getaway with something for everyone.
It won't be long before the Hua Hin Recharge program brings in visitors to enjoy the many attractions that this area has to offer. For Bangkokians who are interested in a quick weekend getaway, however, there is no need to wait. This fashionable seaside resort city is waiting for you to come and have some fun in the fresh ocean air.