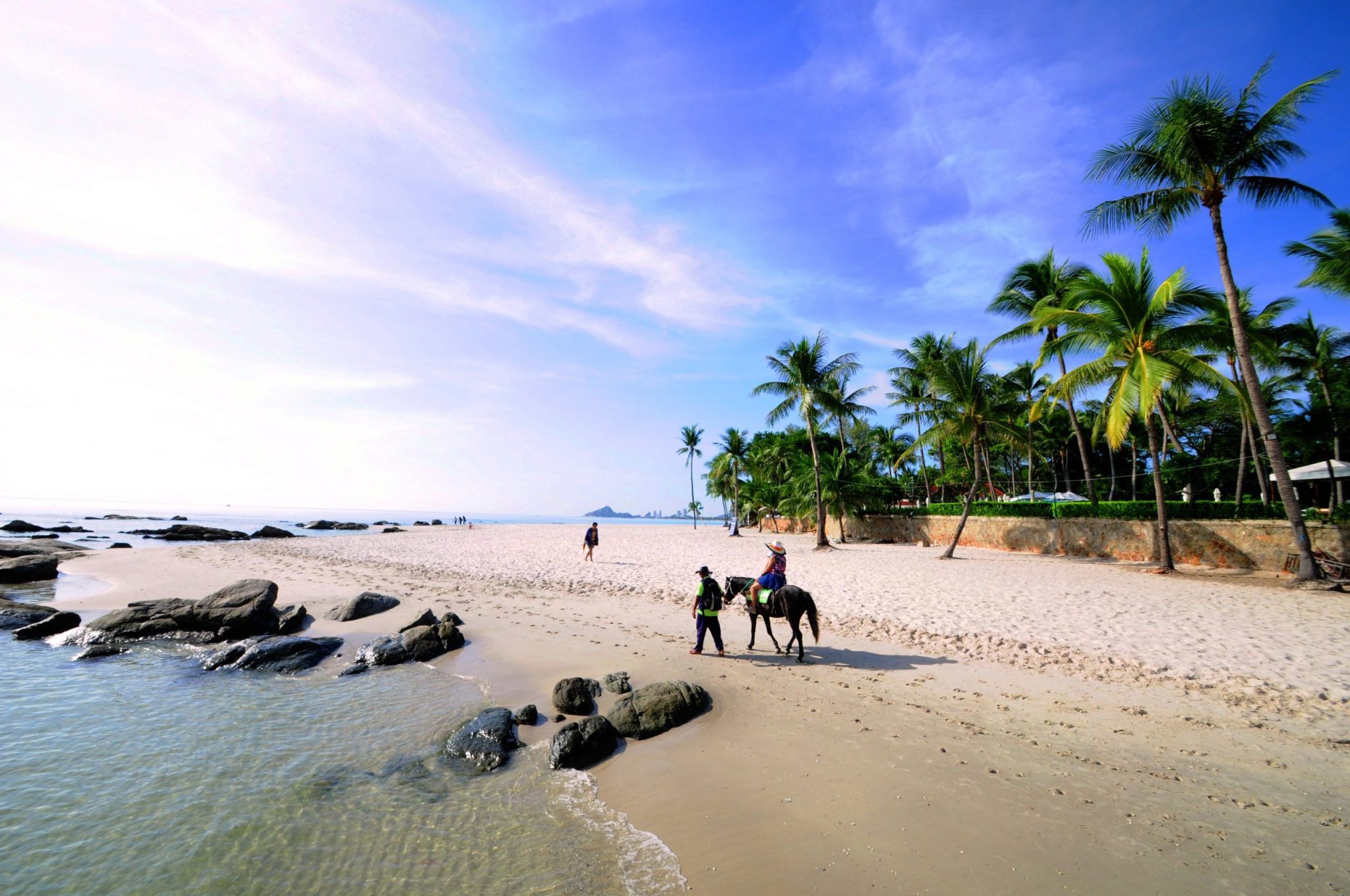 Escape to Hua Hin For A Holiday of Fun Activities and Restful Massages
Hua Hin is a gorgeous holiday destination with activities to enjoy with the whole family. With delicious seafood, beautiful beaches, and great shopping spots throughout the city, there is something for everyone in Hua Hin.
After you've had your fill of adventuring for the day, you can stop by the nearest Let's Relax Spa for a refreshing spa treatment or relaxing massage. This article will give you an overview of some of the most exciting places to visit during your stay in Hua Hin and point out the Let's Relax Spa locations nearby.
Beaches
There are several lovely beaches in the Hua Hin area where you can swim or relax for an afternoon. The Hua Hin Beach is closest to the city and lined with restaurants and hotels, making it a wonderful spot for an evening stroll along the beach. You can also do various activities on this beach in the daytime, including banana boating or horseback riding.
If you feel like traveling outside the city, you can venture south to visit Takiab Beach. This beach is a bit quieter and better for a restful afternoon. You can also hike up a small hill to Wat Takiab to take in the beautiful ocean view.
Shopping
You can find all kinds of exciting shopping experiences in Hua Hin, from local night markets to impressive shopping malls. The Hua Hin Night Market is a great place for evening shopping right in the city. Those who venture south to Takiab Beach can also visit the Cicada Market, with many arts and crafts for sale.
Shoppers in Hua Hin can also visit the impressive Blu Port Mall, a modern shopping complex where you can find anything you need. The Market Village in Hua Hin is another amazing shopping option with a variety of shops, restaurants, and event spaces. This outdoor shopping mall is the largest shopping complex in the Hua Hin area.
Seafood
As a prominent coastal city, Hua Hin is known for its wide selection of fresh seafood. One of the best places to check out fresh seafood and enjoy a fun evening of shopping is the Hua Hin Night Market. An iconic "Hua Hin" sign at the front of the market makes for a great selfie spot. This night market has a wide variety of interesting items for sale, but the street is lined with restaurants specializing in fresh seafood toward the west end of the market. This is a great area to enjoy a fun evening of shopping and delicious seafood.
Besides this section of restaurants, there are also many wonderful seafood restaurants along Hua Hin Beach, including the Saeng Thai and Baan Hin Rim Haad restaurants. These are great spots where you can enjoy tasty seafood and the calming beach ambiance.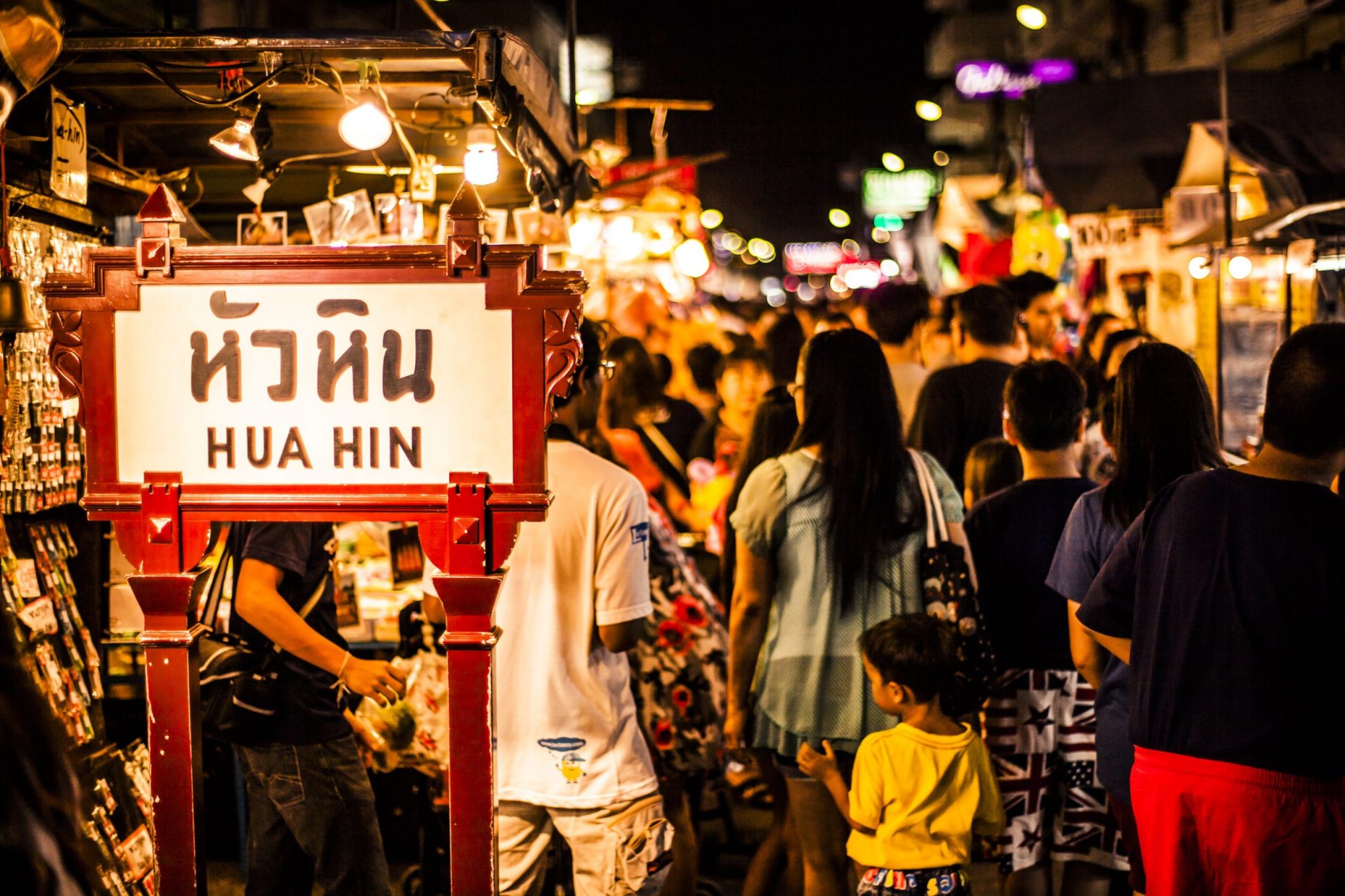 Nearby Activities
There are many exciting activities to experience just a short distance from Hua Hin City.
Hua Hin Artists' Village
Just outside the city, you can find the Hua Hin Artists' Village, an art center and gallery for local Thai artists from all over the country. In addition to viewing and purchasing artwork, visitors can participate in creative artist-led activities together. They also provide painting and sculpture classes that are great for families with children. Grab a refreshing drink or tasty cake at their quaint cafe.
Pran Buri Forest Park
Those who enjoy the outdoors can stop by Pran Buri Forest Park south of Hua Hin City. This park was first established as part of a royal initiative in 1982 to promote forest restoration. It consists of 3.2 square kilometers of mangrove forests. This is a lovely spot to visit for a light hike or birdwatching.
Black Mountain Water Park
There is no better relief on hot days than to spend time playing at a local waterpark. The Black Mountain Water Park near Hua Hin is the perfect place to cool off, with nine impressive water slides and six refreshing pools. Here, you can opt for the excitement of the largest wave pool in Thailand or a restful float down the lazy river.
Massages
Let's Relax Spa has two locations in Hua Hin where visitors can experience true relaxation during their holiday. And just like many of the fun activities around Hua Hin, Let's Relax Spa is a family-friendly spot where everyone can find physical and mental rejuvenation.
One of our locations is conveniently located in the Hua Hin Market Village, the perfect stop after an afternoon of shopping. We also have a spa at the Blu Port Mall in the southern part of the city, an ideal stop on your way back into Hua Hin after a day at Takiab Beach.
Hua Hin's diverse range of fun activities makes it a great holiday destination for anyone and a perfect place to enjoy time with your loved ones. Add a Let's Relax Spa visit to your itinerary to experience a relaxing massage in Hua Hin and ensure that your holiday leaves you feeling refreshed.